Find out what industry analysts have to say about SecurDPS Enterprise by comforte.
Click the button below to download the full report: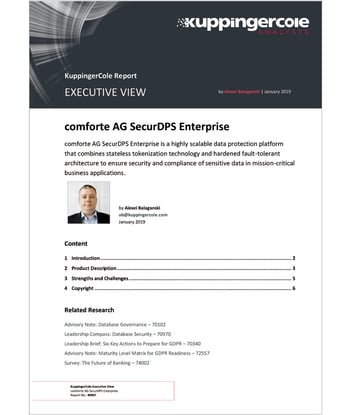 About KuppingerCole Analysts
KuppingerCole Analysts is an international and independent Analyst organization headquartered in Europe. The company specializes in offering neutral advice, expertise, and thought leadership in Information Security, Identity & Access Management (IAM), Governance (IAG), Risk Management & Compliance (GRC) as well as all areas concerning Digital Transformation. KuppingerCole supports companies, corporate users, integrators and software manufacturers in meeting both tactical and strategic challenges. Maintaining a balance between immediate implementation and long-term viability is at the heart of KuppingerCole's philosophy. Find out more at KuppingerCole.com.
About comforte AG
comforte is a globally operating provider of software solutions specializing in data protection, digital payments, and empowering mission-critical systems. Building on more than 20 years of experience in unlocking more value from systems that never stop, comforte has established itself as a market leader in enterprise data protection. We proudly serve over 500 enterprise customers across the globe.
To learn more, check out our enterprise data protection portal.